A National Network Project
The Language of Photography is a national project which welcomes the participation of ReFocus Network members.
The project will run from September 2010 to June 2012. 
The project explores how we construct long term action research projects and the potential of photography as a language
of expression for young children. This subject is also currently an area of research and interest in Reggio Emilia's preschools and Infant toddler centres, and is inspired to their approach to project development.
The project is open to participation by all ReFocus Network members. It is managed and co ordinated by Sightlines Initiative. Participants can engage in the project at whatever level is appropriate for them. 
Sightlines Initiative believes that a national research project amongst members, with a common theme/focus has the potential to enable the following:
A supportive structure to progress theoretical understandings into daily practice.

A shared research focus.
A common subject for exchange, dialogue and connection between members.
The construction of projects (Progettzione)
A community of learners, learning together.
The exploration of the values and principles of the Reggio Philosophy
A national exhibition to promote and inspire a creative and reflective approach to early childhood education.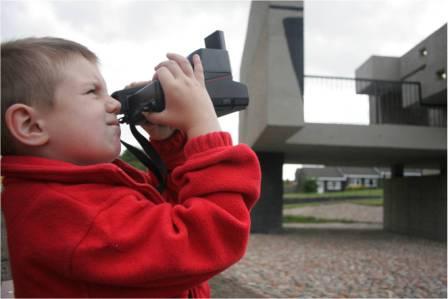 Sightlines has written a project guidance dicument and some additional resource documents for project participants (see below) It is intended that these documents offer a framework for the project but that it will be largely self managed by settings themselves. 
Sightlines can organise seminars and workshops relating to the project for project groups and offers bespoke project mentoring and consultancy to settings.
Sightlines asks project participants to submit examples of work for sharing with other project participants and this will be shown here and will contribute to a final exhibition. 
The Language of Photography Project Guidance
The Language of Photography . participation proforma
The Language of Photography - Getting started
The language of Photography - Top Tips
The Language of Photography - Powerpoint
Children often use cameras in a very exciting way- unrestricted by conventional notions of what makes a good picture they are so direct, curious and unpretentious that I often find myself liking their pictures more than my own.'
Julian Germain