Articles
Languages of Evaluation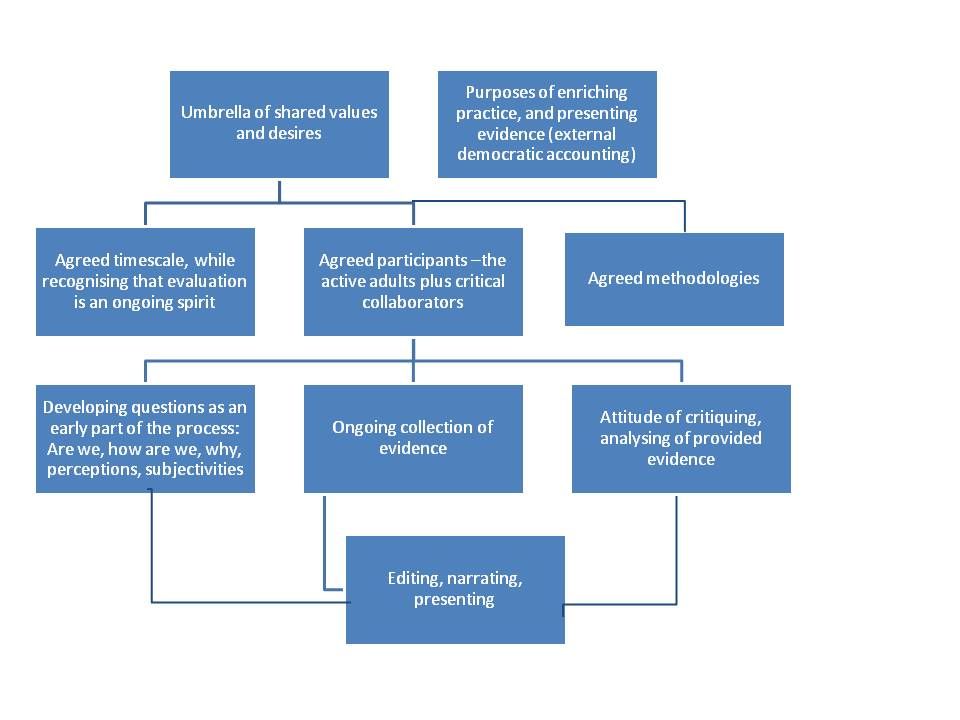 Network Proposal: Languages of Evaluation, Actions of Re-cognition
(Download link : project invitation paper)
Education is in an era of intense external scrutiny, a scrutiny typically motivated and seen from eyes with interests other than that of education – 'global competitiveness', party-political positioning, social engineering, etc – and it is done almost exclusively using testing and scoring indexes from these positions. The contests between 'policy' and education' are particularly intense at the moment, but it is an ongoing dissonance. The situation is likely to continue so long as 'education policy' remains in the increasingly autocratic hands of those with other interests, isolated from educational science. Chris Merrick's article on the Bold Beginnings controversy, and Peter Moss' position piece which she references, are strong representations of the issue. There are many other voices being raised in contest. An enormous amount of energy and intelligence is being devoted to promote and defend basic understandings and principles of education.
Promote, Defend, Illustrate, Evolve
Whilst actively participating in promotion and defence, it is urgent to develop our own evaluative practice. We need to understand, illustrate, evolve. And it is not possible to use languages and tools of evaluation foisted on us by mindsets and interests coming out of the realms of economic interest (PISA, baby PISA, Heckman - see quote, etc. At the very least, these external 'measuring initiatives' do not contribute anything useful to enriching pedagogy or children's experiences; at their worst, we find education reduced to 'teaching to the test.'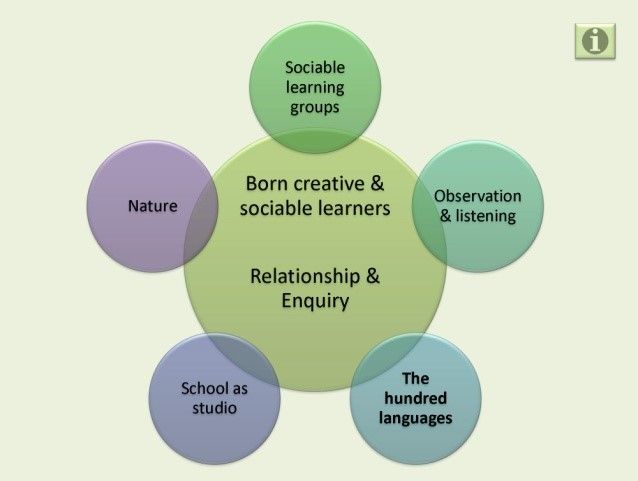 We therefore intend to begin research and development of an evaluative process which, first and foremost, will help us in our own understandings of our practice in relation to our stated principles. Secondly, this process will enhance our capacity to articulate our pedagogy and its effectiveness to the inevitable other eyes and ears.
This invitation is to participants in Sightlines Initiative's Network (and we'll also welcome the evolution of parallel/interlinked work by others of the national network members of the Reggio International Network.) It will build from the reference points of Sightlines Initiative principles, and those of the schools of Reggio Emilia. We are envisaging cycles of evaluation lasting 3 – 6 months, with particular foci on particular aspects of practice and on particular learning groups.
We realise that we can't evaluate 'everything' about our identified characteristics, or those with which we identify, with equal intensity.
However, to use the analogy of the necklace, if we pick up a particular gem, then the rest follow along; we do expect that 'everything' will come into the lens of consideration during the process.
Participation & Processes
Sightlines Initiative Directors  Sightlines Initiative Network Member settings  academics
We plan that this initiative will have various contributors. Sightlines will provide oversight, and we hope that Prof. Gunilla Dahlberg of Stockholm will join SI Member Prof Peter Moss in contributing from an academic perspective. We anticipate that some participation will be via regional Network steering groups.
We will invite and establish participation of settings and we will engage on a research cycle over a (probably) two-term period. The establishment process will include defining who will work alongside the active educators in providing external comment, steering, questioning. These critical collaborators will equally be familiar and engaged in shared principles, but have a working distance from the lived experiences. We intend that in this way they will be freer to attend to the threads and significances underlying the educational processes of educators and children, and the generated material.
The self-analytical processes, once the key foci and research questions are elicited, will encourage the opportunities of different points of view, of non-fixed knowledge (uncertainty), and of robust encounter with the rich differing points of view (confronto.)
The 'expressive phase' is highly important and will have its own complexities. What have we learnt? How shall we show this, for ourselves, parents, children, outside eyes? Here is where we encounter the public responsibility of education., demonstrating the learning and strengths of children, and the pathways and characteristics of our pedagogy. Here is where we will meet and address the 'accounting eyes' of those who will continue to want to 'measure' the achievements of children, educators and education.
Currently we have about six centres in the network wanting to participate, and this will make a great learning group. We are absolutely open to new expressions of interest, so do get in touch. We are currently setting some 'good questions' for first exchanges and lines of enquiry.
Below are two slidesets from our October 2020 online seminar introducing the topic, and some further references:
Professor Peter Moss: Languages of Evaluation
Louise Lowings: Making the Parts Whole
References:
Robert Chambers: 'Can we know better?' (pdf version of book referenced by Peter Moss)
Sightlines Initiative Privacy Policy
The personal data we collect will be used exclusively by Sightlines Initiative Charity and Company to enable efficient communication between ourselves and you. We are registered with the Information Commissioner's Office and endeavour to comply with its practices. As the ICO itself make clear, GDPR is a living process, and we will appreciate advice where you feel our practice can improve. Please see ICO documentation where the full scope of the legislation is described.
The following is a broad description of the way this organisation/data controller processes personal information. To understand how your own personal information is processed you may need to refer to any personal communications you have received, check any privacy notices the organisation has provided or contact the organisation to ask about your personal circumstances.
Reasons/purposes for processing information
We process personal information to enable us to provide consultancy and advisory services, to promote our services, to maintain our own accounts and records and to support and manage our employees.
Type/classes of information processed
We process information relating to the above reasons/purposes. This information may include:
Who the information is processed about
We process personal information about our customers, clients and employees, complainants and enquirers, suppliers, advisers and other professional experts.
Who the information may be shared with
We sometimes need to share the personal information we process with the individual themself and also with other organisations with their express agreement. Where this is necessary we are required to comply with all aspects of the Data Protection Act (DPA). What follows is a description of the types of organisations we may need to share some of the personal information we process with for one or more reasons.
Where necessary or required we share information with:
professional associates and other professional advisers relevant to work we're undertaking with the person
associates and representatives of the person whose personal data we are processing
We do not share information with traders in personal data.
Endorsements & Reflections
"The future comes by itself but progress does not"
During recent years, we realised that we should ask for comments and opinions; we often forget, in the busyness of everyday life. So thank you to those who've offered their reflections and endorsements; do send us yours, if you would like. It is extremely valuable to hear them; often we do not see the ripples that we make ...
↓click on name
Karin Eskesen, Reggio Emilia Network, Denmark
Thank you for creating once again a possibility to internationally have a possibility to discuss how much the international relationship means to discussions about children's growth, learning and rights.
Since our first cooperation started in the mid 1990's I have appreciated the possibility to share with you and colleagues from Sightlines Initiative what are important issues. In a future where unknown challenges are waiting I do believe that creative perspectives, which have been in our joint focus are so important, and that we have this common interest.
Especially for children today who are part in a world full of options, that are hard to comprehend and understand, it is valuable that we continue a global discussion. I believe that openness to other possibilities and solutions are crucial and that is why I treasure very much our ongoing discussions around creativity.
Whether we have meet in UK or in Denmark it has been so valuable to me and colleagues in the Danish Network to meet the options you and we value, and to have a chance to deepen our understanding of what the values mean and what learning means. To meet you has given us a possibility to look at our education with other eyes and reflect on possibilities and ways, that might take the world further. The Danish architect Poul Henningsen said that "the future comes by itself but progress does not."
It turns out that we have a common interest in sustainability and creativity and we have in Denmark seen how that can influence understanding and that we share responsibility for the future.
Head, hands, heart and brain are closely linked as are the global and local perspectives and we see very often that the interest of learning is growing, if it is supported through the creativity we as human can share, when we have the possibility.
Helen Moylett, Senior Director, Early Years National Strategies 2004 - 11
Sightlines Initiative is a small but very important British early year's organisation. It is at the forefront of professional development activity in creativity and the arts.
The work of SI is based on sound principles around the inclusion of all children and their right to find their own ways of expressing their imagination and creativity in partnership with other children and with informed and skilful practitioners. SI has close links with the Reggio Emilia pre-schools of northern Italy and has done a huge amount to help early years practitioners understand the core messages of the Reggio approach.
The quality of Sightlines Initiative's resources and training is excellent and the organisation is skilled in helping early years practitioners become reflective co-constructors of learning with young children.
Kay Rooks, Early Years Foundation Stage School Improvement Officer, Sunderland
For many years, the Sightlines Initiative professionals have offered practitioners the opportunity to develop their own reflective practice and to unlock the potential within their own creative thinking.
Through their emphasis on working in collaboration with artists, photographers and teachers, from England, Italy, Finland and beyond, practitioners have been given opportunities to develop their own creative practices through dialogue, observation projects and visits. Through this they have offered wonderful opportunities to the children and parents in their care.
At a time when political emphasis may be on narrowing the curriculum, we must strive to offer practitioners the chance to develop a positive attitude to creative thinking and link this into their own practice. Please fund Sightlines Initiative to promote and extend innovative thinking and support practitioners develop through projects, field study and international study links.
Jude Noble, teacher, Walkergate Early Years Centre, Newcastle 1988 - 2013
Sightlines has been a catalyst for innovative creative and reflective practice at Walkergate Early Years Centre. They have supported and mentored school based research projects encouraging creative partnerships for over a decade. Sightlines has influenced the outstanding practice recognized by OFSTED in our last 5 inspections.
Several of our staff members have attended thought provoking and challenging international study weeks to Reggio Emilia and have also attended and contributed at seminars and conferences hosted by Sightlines. They have always been protagonists in encouraging the dissemination and sharing of creative practice .
They have been the Beacon organisation enlightening, encouraging and supporting schools and other early years centres both nationally and overseas. I have been amazed at their dedication and development over the last decade and their impact on early years education in this country. Their forward thinking, tenacious and often challenging approach has been beneficial to myself and other teacher colleagues and we hope that their valued contribution will be recognized and given priority funding to enable them to continue consolidating and developing their own and others' practices well into the future.
Emeritus Professor Peter Moss, UCL Institute of Education
Sightlines Initiative has played an absolutely essential role in opening, nourishing and sustaining dialogue between the unique and provocative early childhood education in Reggio Emilia and those in the UK who want to understand, research and gain inspiration from that experience.
At a time when early childhood education in the UK is increasingly dominated by a narrow, technical and instrumental approach, which treats children as 'human capital' and 'investments for the future', Sightlines Initiative, in its work with Reggio Emilia but also with many schools and centres in the UK, is an important and necessary reminder that there are alternatives and that we can do better, treating children as active creators of knowledge and identity and citizens with rights.
Its work is more needed than ever. Long may it continue to fly the flag for creativity, diversity and experimentation.
Jyl Friggens, artist, North Tyneside
I have worked with Sightlines Initiative for more than eight years.
My first experience was in 1997 on a training weekend called 'In at the Deep End' funded by Arts Council England. This introduced me to the Reggio Emilia way of working and totally changed my perspective of what I can do as an artist in schools.
SI have continued to run innovative and exciting projects that build up strong relationships between partners and have helped to further my artistic practice.
They offer a unique international perspective on working with Early Years and a integrated and intelligent framework for an arts practice within schools. They offer a supportive community for artists, like myself, who are often isolated and don't belong to a professional agency or association.
Sally Jaeckle OBE, Early Education Services Leader, Bristol
For more than a decade Sightlines Initiative has made an invaluable contribution to early years pedagogy and practice in the United Kingdom.
As the UK representative of the Reggio Emilia Pre-Schools, Sightlines has done more than any other organisation in this country to promote dialogue and critical reflection on the rights of children and our construction of childhood.
Through seminars, publications and the coordination and leadership of study tours to Reggio Emilia, Sightlines has created a rich and dynamic creative space in which provocations for new thinking have flourished.
Sally Jaeckle co-ordinates early education services for Bristol City Council. Prior to this, Sally was the Department of Education's senior South West regional advisor for early years, following many years teaching in the UK and US.
Dr Jonathan Delafield-Butt, Lecturer in Early Years, University of Strathclyde
Dear Robin and Catherine,
Thank you for an exceptional double-act today (Scottish Insight Seminar 2013) and a talk that was stimulating, informative, entertaining, and yet so skilfully executed and presented that you made it look simply like natural good-fun! And indeed, it was, but I also know that such naturally good fun, and the enjoyment that you have with your children in seemingly effortless exuberance, takes great skill, presence of mind and a kind of professionalism so very rare.
We were discussing good science the other day and good scientific writing. Good scientific writing is the expression of complex ideas and formulae in simple language to make claims that appear clear and obvious. (On the other hand, poor science and scientific writing takes a flawed idea and makes a complex mess of presenting it.)
I know that the simplicity and natural fluency you were able to convey today comes from exceptional understanding and professionalism, and I can't thank you enough for sharing this with us today.
Tulia Gomez, Educational Leader, Colombia (reviewing 'Learning to Learn in Nature')
It is a pleasure, when reading a book, to feel than you don't want to stop anymore. What makes you fall in love with "Learning to Learn Nature"? As says Bachelard in his book "El Agua y Los suenos": It is not the blue of the sea or the green of the mountains, it is something deeper that concern our reason to be. It is also these experiences that created strong connections to the book because of being carried by a real emotion of harmony, well-being, and fullness. It is a pleasure, when reading a book, to feel than you don't want to stop anymore.
Back to the times of my childhood… Wonderful memories, we were allowed to have dreams when time was no time, and the limits weren't. We only lived in the respect of all the beauty that surround us, letting it invite us to create in full liberty. I come to the lines of Malaguzzi:
"Children need liberty to appreciate and the shapes of their hands, eyes and ears. Materials, colours and sounds. They need liberty to get how reason, ideas and imagination can create mixtures of all sorts that can change and improve the world…" . Many peoples feel the joy to have grown in contact with the nature, as says Juhani Pallasmaa in his book "La mano que Piensa". I spent my childhood in the small barn of my granddad, in middle Finland, and I realize a bit more each year the richness of such a childhood. Particularly now that I have to make myself a point on my own physical existence and on the interdependencies between the physical and mental aspects of the everyday life. Today I believe that the feeling of beauty and the ethical juice of each one of us comes firmly from the first experiences in the universe of the human life.
"Learning to Learn in Nature" is an awesome work of constant observation and reflection, rigorous documentation, great richness, understanding with the Heart; only it can bring us to the secrets and talents of the childhood. Congratulations for this masterpiece. It will be a book that will support masters, parents and professionals who will to meet knowledge as basic as growing and learning. It the lost Nature, we need to bring it back to life to "love it and respect it". "Be Careful" is the new world paradigm, as says Leonardo Boff: "We love what we care of, and we care of what we love". And we ask ourselves what is the function of the education, when the philosophy of Reggio Emilia keeps inviting us to rethink and see these children who naturally show their skills, their sensibility and their empathy. In this book we can see children who spontaneously read what Nature write to them.
To finish, I quote this thought from Robin and his team: "Education is the creative process of exchange and relationship with the world, ourselves, and others.The task of educators is to support and encourage children's exploration and understanding.The acquisition of skills is not in itself an aim of education. Skills grow in the course of children's engagement in their learning, their relationships and their meaning-making".
A book to get in our personal library, in the space dedicated to unique books.
also:
Article: Helen Watson from Learning to Learn in Nature
Catherine Worton video in Drama of Sound
Subcategories
"Our language is full of metaphor; arguably it comprises metaphor."
We are working on the offering of this new project for 2019.
As educators we can hugely benefit from working to attune ourselves to a way of seeing the world metaphorically. This project is intended to assist us in this. We will also explore new ways in which we can present educational opportunities for children in order to amplify their potentials, to exercise their own competencies in metaphorical expression … Anyone who is a subscribed member can participate, whether or not they are in a Network Group.
You can read much more about the proposal on these pages, and we will be discussing it during our Network Seminar day with Tiziana Filippini in London on November 10th.
Following this, we'll be updating the information, and setting up a Facebook Group for Members who would like to participate. Do email Robin (This email address is being protected from spambots. You need JavaScript enabled to view it.) if you/your setting are interested at this stage in participating.
All the best, Robin Duckett, Director, Sightlines Initiative.
Here is a list of articles, references and discussion.