Education for Happiness
Learning to Live Well Together ~
investigating the shaping of education from ethics of relationship & listening.
Seminar Five: Education for Happiness
Dr. Satish Kumar, UK
---
The current educational system was designed to meet the needs of the Industrial Age - the age of mass production, mass consumption and unlimited economic growth.
Young people were trained in whatever skills were required by the market. This was education for jobs rather than education for life. Any of the jobs for which the students were trained led to the demise in biodiversity and the increase of carbon emissions which cause climate catastrophe.
We are entering a new era, an era of the environment. So we need a new system of education which can respond to our times and can help to develop a regenerative culture.
The present educational system looks at nature and sees it as a resource for the economy. Thus, nature becomes a means to an end: the 'end' of economic growth. Human beings are also considered a resource for the economy. We call them "human resources". Thus, people become a means to an end.
Our education system in the modern Western world is not education, and it is not happy. It's a mis-education. We don't even encourage children to imagine. Imagination is missing. If you can't imagine, you can't make, you can't feel. The knowledge of ecology and of our human dependence on nature have been exiled from the mainstream educational process. As a result, ecology and economy have been separated. Education of this kind is detrimental to social cohesion and disconnects people from the natural world. This is a great tragedy.
My idea of education is that we go out in the world not to serve ourselves, but to serve the earth, serve the people in the service of the earth. Then earth will look after us and our needs. We are in the service of the earth caring for the earth, looking out for the environment, not polluting, not wasting, not destroying, not undermining, not undervaluing.
Education should involve educational head, educational, heart, and educational hands. At the moment, our education mainly is of head: thinking, analysing, information - knowledge a little bit, but mostly: 'information.' That should be complemented with experience, and experience comes by feeling: heart and by making: hands.
Educational head, educational hearts educational hands: these three hand-in-hand can renew education. Every school should ask, from the start: how we are going to cultivate our feelings? How are we going to get compassion for each other? How are we going to be compassionate for the earth? How are we to create compassion for humanity? How do we respect each other, how do we have kindness in our heart, how do we love each other? How love nature?
We need nature friendly education: education as if people and planet matter.
We need to engage in the study and understanding of the intricate web of life and ask: "What is a healthy and regenerative relationship between humans and nature?"
Every school must have a garden .. a permaculture garden, an organic garden, where will know and learn how to cultivate, how to plant trees, how to grow orchards, fruit, vegetables, greens and energy, and how to do store water, how to cultivate a food, but how also, how to harvest sunlight and energy. It's a complete cycle of energy and food and our selves.
It is also an education for happiness.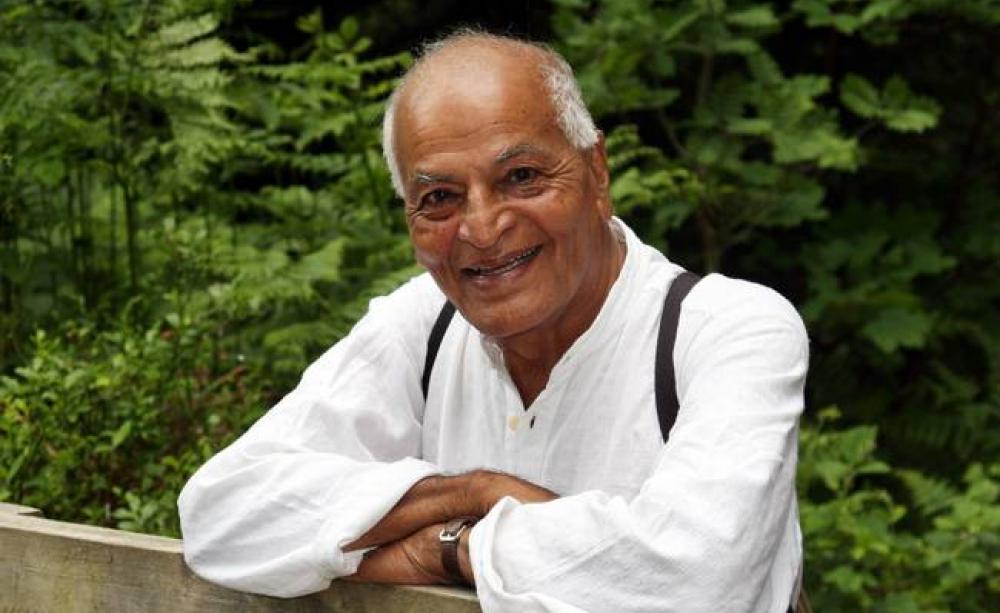 A former monk and long-term peace and environment activist, Satish Kumar has been quietly setting the global agenda for change for over 50 years. He was just nine when he left his family home to join the wandering Jains, and 18 when he decided he could achieve more back in the world, campaigning for land reform in India and working to turn Gandhi's vision of a renewed India and a peaceful world into reality.
Inspired in his early 20s by the example of the British peace activist Bertrand Russell, Satish embarked on an 8,000-mile peace pilgrimage. Carrying no money and depending on the kindness and hospitality of strangers, he and a colleague walked from India to America, via Moscow, London and Paris, to deliver a humble packet of 'peace tea' to the leaders of the world's then four nuclear powers. He continues to teach and run workshops on reverential ecology, holistic education and voluntary simplicity.
Founder: Small School, Hartland; Human Scale Education; Resurgence magazine; Schumacher College
Author: No Destination; You Are, Therefore I Am: A Declaration of Dependence; The Buddha and the Terrorist; Earth Pilgrim; Soil, Soul, Society and Elegant Simplicity.
Hon Doctorates: Law (Plymouth; Literature (Lancs); General Doctorate (Suffolk.) Oxfam Ambassador; vice-president RSPCA
---
Dates, Details & Booking
Date
Tuesday 14th September 2021
Price
£40
Member Discount
10%
Presenters

Dr. Satish Kumar, UK

Please Note:
Recorded sessions: to support the participation of registrants in other time zones, we will be making a recording of this session available to registrants.
The online platform will be Zoom: the link will be issued on the previous working day.
Times
4 - 5.30pm
Location/Map
online