Musicality
The Drama of Sound
Since 2003 we have been developing projects and working in collaboration with schools, in order to research the ways in which we can develop reflective pedagogy, paying particular attention to the potential of musicality as a language of expresssion. Much of this work has been supported by Youth Music, and has resulted in the publications 'Movement Languages in Early Childhood Education', 'The Sounds of Leaping', 'The Drama of Sound', and a Self-evaluation Tool (see below 'Ask Yourself Good Questions). Extracts from
The Drama of Sound
are viewable here.
We aim to
enable young children to become competent, enthused and empowered to use music as a way of expressing their ideas and communicating with one another.

encourage young children to respond to sound and to see the language of music as a tool for interpreting and understanding the world.
encourage parents to develop enthusiasm for participating in musical activities with their children, and to understand the importance of music as a way for children to express themselves.
enable early years educators to develop high levels of competence in working with children's musical ideas
What happens?
Children develop understandings of the expressive qualities of musical sounds and acquire skills equipping them to use music as a communicative tool. This has a positive impact on the children's confidence, self-esteem, and their ability to communicate with others.
The adults explore and draw out key interests and dispositions of the children, creating new opportunities and contexts for musical exploration and expression. The children explore musical ideas using a wide variety of instruments and materials, their bodies and their voices.
Each group works towards a co-constructed composition to be shared and celebrated at the end of the project. Parents are encouraged to exchange knowledge, thoughts and ideas as the work progresses, and are kept informed of the children's work through letters, meetings and project sharing sessions.
The learning of the children and the adults is made visible to a wider audience through professional development activities such as meetings, project celebration events and conferences.
Review and Development Project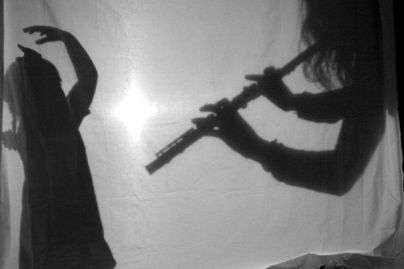 Are you interested in developing creative music practice with young children?
We are inviting educators, musicians and others working in early childhood education to review and take part in professional development, building on the approach outlined in our 'Drama of Sound' project work.
The Drama of Sound DVD explores ways of working with children's creativity and imagination through music and dance, within a culture of collaborative, reflective practice. Sections of the film are available to watch free online .
The DVD with additional CPD materials is available to buy from our online store.
We would like to work with people interested in the Drama of Sound to find out about the effectiveness of the DVD and other CPD materials, and to support further professional development.
Here is a self-evaluation tool developed to help you consider how you are currently working with musiclity. The questions buil in order to indicate the areas in which where you may want to be developing your practice, in a holistic way. Click the picture to the right to go to it.
This is a new tool for us: we would very much appreciate your feedback and advice on its usebility and usefulness.
Please email your comments to learning[at]sightlines-initiative.com, with the Subject 'Drama of Sound Good Questions Tool'.
supporting new groups who are working with the Drama of Sound material to develop their work
raising awareness of the Drama of Sound CPD materials, and associated UK projects
reviewing the effectiveness of the DVD as a professional development tool and developing additional support materials.